What is PSQ?
Polysilsesquioxane (PSQ) composed of siloxane bonds (Si-O-Si) synthesized from trifunctional organosilane compounds. PSQ is an organic-inorganic hybrid material, which has inorganic features (i.e. excellent transparence, heat resistance, weather resistance, and hardness) and organic functional groups, so PSQ shows different properties from silicone oil, silicone rubber and silica.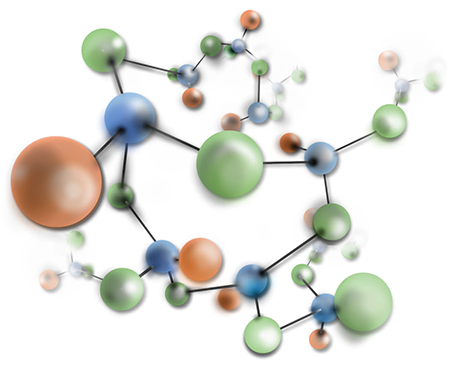 PSQ structure
Unit structures of silicone resin are classified four types, and PSQ consists of a T structure. PSQ shows three higher-order structures (i.e. random, ladder-like, and cage-like structure), the structures affect features of PSQ.
4 types of unit structures
3 higher-order structures

Features of SR series
SR series is PSQ oligomer and polymer mainly composed of random structure. Reactive end groups remained in SR series; therefore siloxane bond crosslinks are formed by heating and obtained cured products with excellent durability.
Introduction of SR series
SR series have organic functional groups of methyl and/or phenyl group. We also tailor chemical structures (i.e. molecular weight, organic functional groups) and product forms (i.e. powder, flake, or organic solvent solution) to customer's requirements.
Product Lineup of SR series
Product
Functional Group R
End Group
Mw
Stage
SR
-21
Phenyl
-Si-OH
3,000~4,000
Pilot
-23
-Si-OH
-Si-OEt
1,000~5,000
Pilot
-13
Methyl
-Si-OH
-Si-OEt
3,000~10,000
Pilot
-33
Methyl/Phenyl
-Si-OH
-Si-OEt
1,000~10,000
Pilot
(Not quality standards)
Manufacturing technology of SR series
Features of PSQ oligomer and polymer depend on the molecular weight and the unit structure ratio. We have established an industrial manufacturing technology of polymethylsilsesquioxane (product name is SR-13) that precisely control the molecular weight and the unit structure ratio (T3 structure ratio) within a certain range, so we won the 68th Industrial Technology Award sponsored by Osaka Industrial Research Association. We tailor PSQ to the customer's requirements for improved performance and yield.
SR-13 Design range
| Quality | Design range |
| --- | --- |
| Mw | 3,000〜10,000 |
| T3 ratio | 60〜80% |
An usage example of SR series
An example of preparation of curing PSQ resin is shown below.
[Conditions]
PSQ type:SR-13(R = Methyl)
Solvent:butyl acetate
Concentration:70wt%
1. PSQ varnish is Coated/Casted to substrate.
2. Solvent drying by heating to 120-130℃.
3. Cross-linking formation by heating to 150-200℃.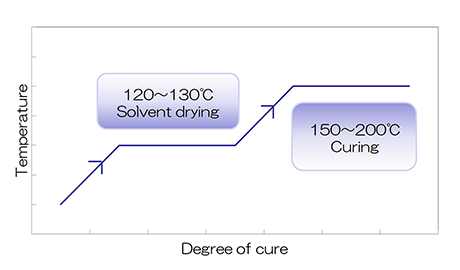 Image of temperature and curing progress
Physical Properties for PSQ
Curing resins of SR series show excellent heat resistance at high temperatures and light resistance in irradiation environments since they are composed of siloxane bonds that are more stable than C-C bonds. Furthermore, the resins can be used for various applications such as optical materials and insulating coating materials since they show high transparency, high hardness, low refractive index, and low dielectric constant.
Physical Properties of SR-13
| Test | Method | Value |
| --- | --- | --- |
| Specific weight[g/cm3] | Gravimeter | 1.25~1.27 |
| Surface hardness | Pencil hardness thickness:0.5mm | 6H |
| Transmittance | wavelength:400nm thickness:0.5mm | 93% |
| Refractive index | Spectroscopic interferometry wavelength:589nm(sodium D lines) | 1.42 |
| Td5 | TG-DTA | 409℃ |
| Tg | DSC | ≧409℃ |
| Thermal conductivity[W/m・K] | Laser flash method | 0.31 |
| Coefficient of thermal expansion[×10-4 K-1] | TMA | 1.8~2.4 |
| Dielectric constant(1GHz) | Impedance Analysis | 3.2 |
| Dielectric loss tangent(1GHz) | Impedance Analysis | 0.0009 |
(Not quality standards)
Transmittance Spectra of SR serise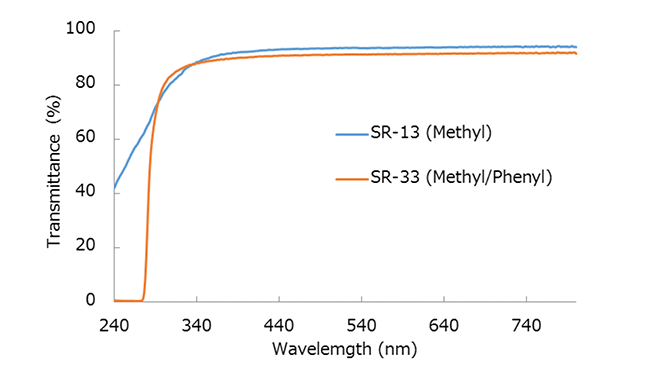 High transmittance in visible light region.
[Conditions] Sample thickness : 0.5mm
Fade Meter Test of SR-13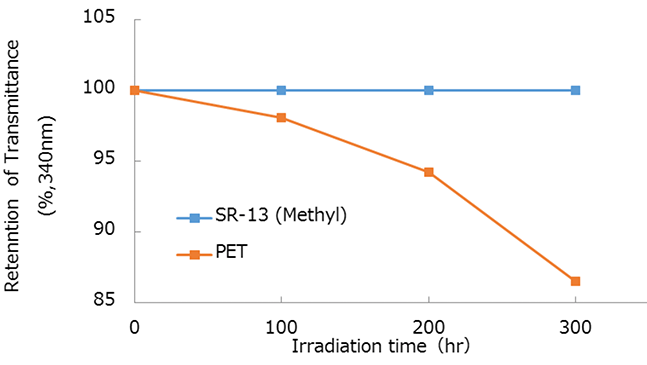 High durability in prolonged light irradiation.
[Conditions] Sample thickness : 0.5mm
Amounts of UV irradiation : 0.15 MJ/m2・hr

Features of SP series
SP series are Nanoparticle configured with polysilsesquioxane. Unlike colloidal silica, the particle surfaces are covered with many organic functional groups, which offer excellent dispersion stability in organic solvents. We also offer water dispersion types which adhered the anion-based surface-active surfactant to the surfaces. The SP series show high transparency when the particles are used as resin filler since the particle size is controlled to 20 nm or smaller.
The SP Series products include two types whose organic functional group is of methyl and vinyl.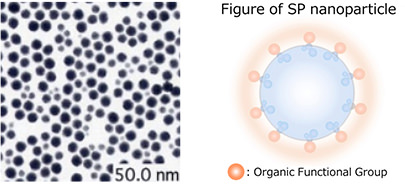 Product Lineup of SP series
Type
Product
Functional Group
R
Particle Size
Stage
Water Dispersion
SP-1120(H2O)
Methyl
20nm
Pilot
SP-6120(H2O)
Vinyl
20nm
Lab
Organic Solvent Dispersion
SP-1120(MEK)
Methyl
20nm
Pilot
SP-6120(MEK)
Vinyl
20nm
Lab

Features of SO series
The SO Series products are generally called Q8, have an octasilsesquioxane core, and have the structure where eight organic functional group moieties are regularly arranged. The SO Series is the smallest model of silica (SiO2) crystal, which is an inorganic material, and it is attracting attention in recent years as a new material for which development of advanced functions can be expected. Applied researches are being implemented actively in various fields including those of opto-electric materials and nanocomposite materials.

Product Lineup of SO series
Product
Functional Group
R
Stage
SO-04
Tetramethylammonium salt
Pilot