Next generation smart factory

In December 2017, approximately 2.5 billion yen investment was made, and a new plant for manufacturing DHDPS (M2 plant) was completed at the Fukui Plant. The M2 plant is a challenging and innovative plant that has introduced various IoT technologies to realize a fully unmanned operation plant in the future. Here, we introduce some of the technologies of the M2 plant.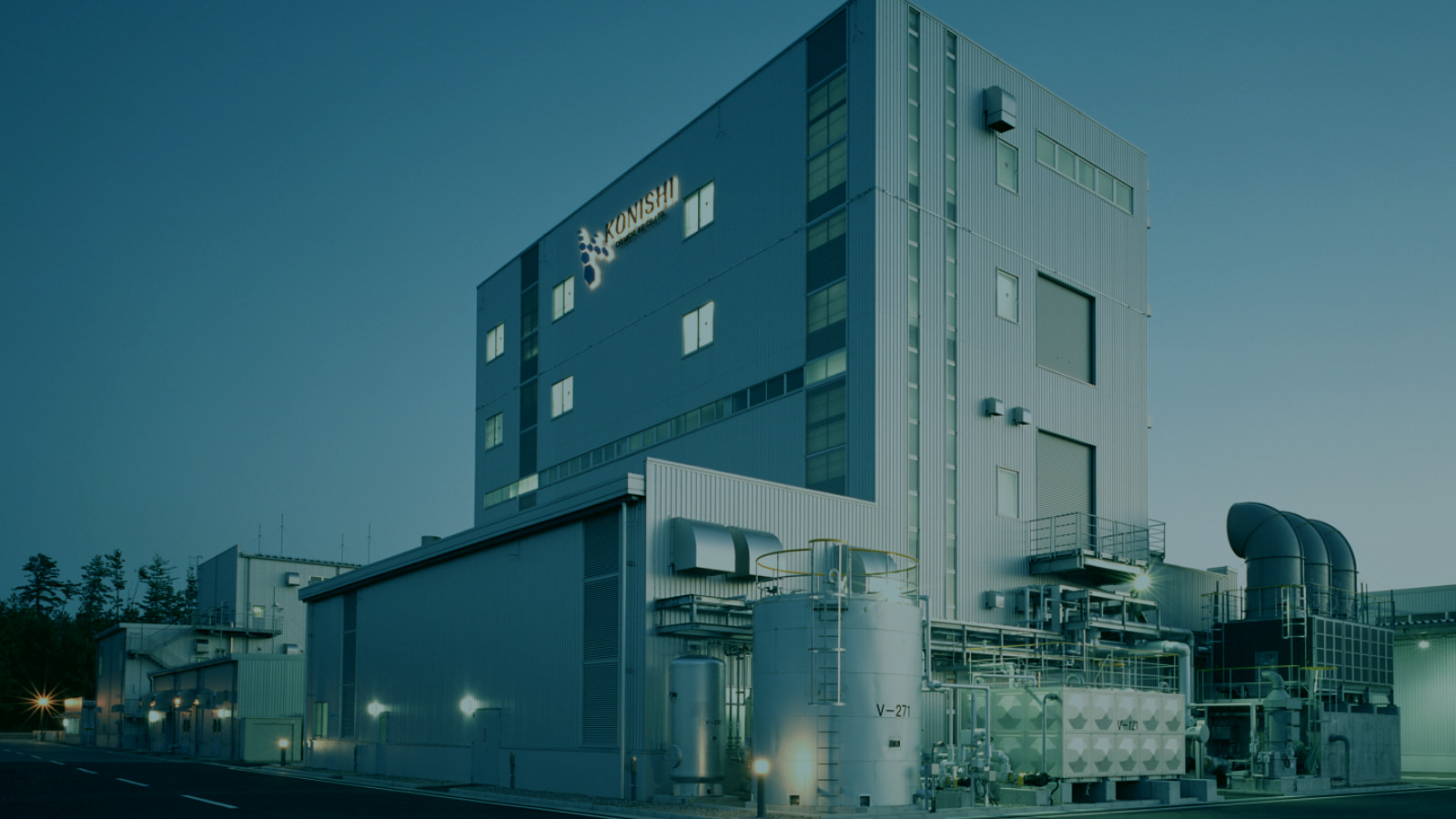 Optimize production activities using IoT (Smart Factory)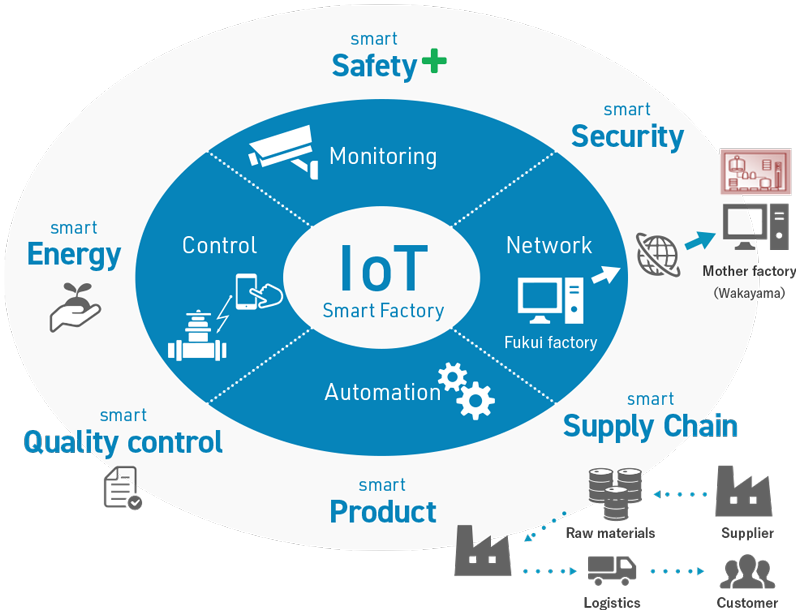 On-site distributed / independent operation using tablet devices
In a general chemical plant that has advanced automation, process values ​​such as temperature, pressure, and flow rate are monitored and controlled by an operator (Boardman) who resides in the central control room. Work proceeds in cooperation with the operator (field man) who starts the pump etc.
This type of operation is called centralized operation.
On the other hand, our M2 plant has achieved automation at a very high level, so both boardman and fieldman work less than before. Therefore, by using a portable tablet device, we succeeded in reducing the barrier between boardman and fieldman and saving labor. We call this method of operation a distributed / independent operation on site.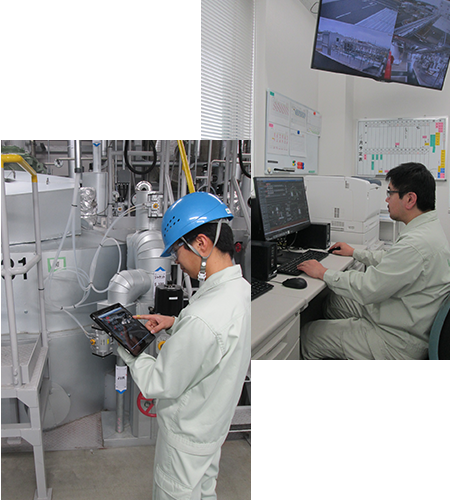 Field monitoring system with wearable camera
Our M2 plant operator's helmet can be equipped with a small wearable camera, and the situation seen by the operator at the site can be shared in the factory. This makes it possible for experienced technicians to give instructions or operate directly in an emergency. In the future, safer and more efficient plant management will be realized by combining with remote instruction and image analysis type AI.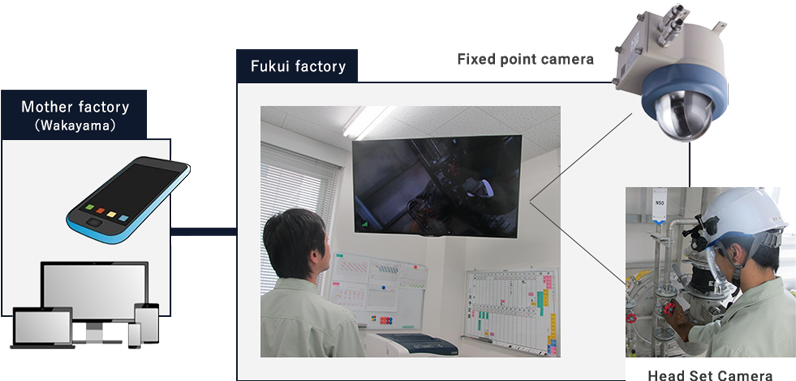 Sharing electronic information via the Internet
The control system and camera video of our M2 plant can be connected to many terminals using the Internet. As a result, it is possible to operate the control system from the Wakayama head office as needed as well as operation from the tablet terminal.Of course, the security of these networks is strictly managed, and can be viewed and operated only from terminals with in-house authority.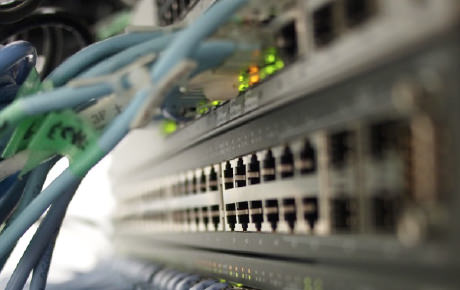 Introduction of production management system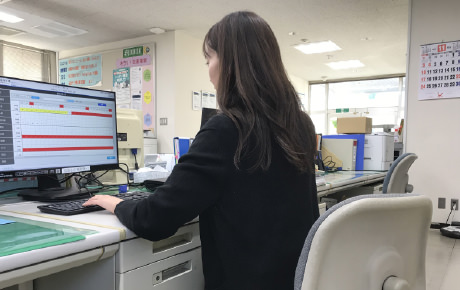 All electronic data of our M2 plant is constantly recorded, and the necessary data is sent to the production management system. The production management system can determine the appropriate raw material order quantity from the production plan and can arrange logistics. In the past, depending on the production situation, these systems, which have been performed manually, are replaced by the system, so that labor saving is achieved and it becomes possible to focus on new businesses.
Electronic management of product entry / exit status using QR codes
Many of the products at the Fukui Factory are strictly managed by QR codes. This is not limited to the M2 plant, but in the case of the M2 plant, more efficient production activities are possible by using it together with the production management system described above.